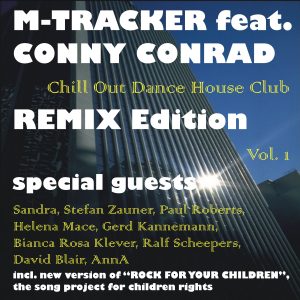 Ein Album mit Staraufgebot der Sonderklasse!…
Mit Spendenaktion zugunsten
SWR-Herzenssache:
http://www.rockforyourchildren.de/?p=1051
Seit Jahrzehnten schon singen national wie international bekannte Sänger(innen) die Songs des u. a. mit dem Deutschen Rock- und Poppreis ausgezeichneten Komponisten und Kultproduzenten CONNY CONRAD.
Mit großer Freude remixt sein Freund und Produktionspartner M-TRACKER diese Hits schon seit vielen Jahren in seinem typischen gechillt groovigen Dance- und Clubsound.
Deshalb war es nun an der Zeit, ein best of Album seiner Remixe zu veröffentlichen.
Die Edition Vol. 1 enthält die Remixe folgender Titel:
Years of love – vocals: DAVID BLAIR (aktuell bei THE VOICE OF GERMANY)
Where do I go – vocals: BIANCA ROSA KLEVER (Kultröhre aus Remscheid)
Rock for your children – vocals: SANDRA (Maria Magdalena/ Enigma) und STEFAN ZAUNER (Münchener Freiheit) – Song des gleichnamigen Songprojekts für Kinderrechte. 100% der Einnahmen dieses Titels gehen an SWR-Herzenssache
You're not alone – vocals: RALF SCHEEPERS (Primal Fear)
Magic of Africa – vocals: AnnA (CCs Newcomerstimme No. 1 aus dem Schwarzwald)
The Astronaut – vocals: GERD KANNEMANN (Crimestop)
Enlightened – vocals: HELENA MACE (aus Bournemouth/UK)
Watching you – vocals: PAUL ROBERTS (Driver's Seat / Sniffn the Tears)
und weitere Hits auf diesem Allstars-Album, das auf keiner Party mehr fehlen darf.
Ab 10.11.2017 weltweit auf allen Downloadportalen und Streamingdiensten erhältlich:
https://www.amazon.de/Remix-Vol-1-Conny-Conrad/dp/B0761P59HC
https://itunes.apple.com/us/album/remix-edition-vol-1/id1290915965
uvm…..
Hier die Hörproben:
Trailer zum RFYC-Remix:
https://www.youtube.com/watch?v=zdgPcusXBoE